Amenities
Air Conditioning
Cable/satellite TV
Dryer
Fireplace
Heating
Internet
Washer
Fishing
Water View
Enhanced Cleaning Practices
Self Check In / Check Out
Decked area
Pets Not Allowed
Smoking Not Allowed
Wheelchair accessible
DVD player
Coffee Maker
Dishwasher
Microwave
Toaster
Balcony
Water Access
Gas Grill
Screened Porch
Bedroom 1 Sleeper Sofa in the Living Room.

Bedroom 2

Bedroom 3
"Herbies hideaway"
Enjoyed the large dining and kitchen area very comfortable Over all I give it a 9 beautiful views nice location. The outdoor porch loveseat and rockers could use an update. Management company was very responsive

-

Lisa

on 2023-07-24
"Loved the house & location"
Services from rental manager

Cleanliness

Location

Property condition

We usually rent canalfront in Oyster Bay, or have for the past 10 years. Our go-to was rented this year, so we had to find an alternate.What we loved:- Closer to town and thus our fave hangouts- Large rooms and lots of natural light- Smartlock check in, so no going to pick up/drop off keys- Large screened in porch- So many little conveniences supplied, like coffee filters, sponges, toiletries, TP and paper towels - meant a lot!- Responsive and proactive management with texts, emails, app.Cons:- Some furniture appears to need replaced, i.e., broken springs on porch furniture and LR couch sinks.- Water access is a bit more accurate, as it's a bit of a walk to get there.- The bed pillows need an upgrade or guests should consider bringing their own.- TV was a disappointment. LR TV seemed only to have streaming/Samsung and no access to local netw affiliates. Bedroom TV had no box, stick or antenna. It plugged in but got no signal since there was no input. We signed into & out of the streaming services we have at home, but couldn't watch ABC, NBC, etc., as Hulu Live is based on home zip code. Suggest an antenna?

-

Kristy M.

from Carlisle, PA United States on 2022-10-12

Thank you for staying with us Kristy! We will pass this along to the homeowners. We hope to see you again next year! :)
"Pleasant Dtay"
Services from rental manager

Cleanliness

Location

Property condition

This home was perfect for a shared family vacation. Spacious living area, great kitchen with lots of island space, and convenient laundry on the first floor.

-

Kristen S.

from Binghamton, NY United States on 2022-08-22

Hi Kristen! Thanks for staying with us! We hope to have you and your family back again! :)
"50+ years at CIA!!"
Services from rental manager

Cleanliness

Location

Property condition

We have stayed at many homes on the island starting with Ralph's & Ruth's in the late 70"s and have immensely enjoyed the old fisherman's town ever since. Herbie's Hideaway is in our top 10 with Life Saving Station as our Top home which is now privately owned. Some minor trimming of the bushes and trees would put this home in our top 5! Loved our stay, even got to see the wild ponies up close. The Moon Rising in 2020 was absolutely mind blowing, beautiful and amazing. Great home if you want lots of space!!

-

Sandy P.

from Middletown, DE United States on 2022-07-18

Thank you for staying with us Sandy!
"June Getaway"
Services from rental manager
Cleanliness
Location
Property condition
We have been coming to Chincoteague for over 10 years. This rental had a few glaring deficiencies. It is billed as having a water view. It does not. The TV room and back deck furniture have long since seen better days. They should be immediately replaced. The house was clean when we arrived although the back deck needs to be power washed. On a positive note, the rental office did get the ice maker fixed promptly when notified it was broken.
- from Richmond, VA Unknown on 2022-06-28
"Grandkids 1st trip to the Ocean"
Services from rental manager
Cleanliness
Location
Property condition
We had a terrific rental experience. We encountered a problem with the downstair air conditioner and it was handled immediately. Two choices-they would put us in another rental or get us a huge air conditioner for the downstairs. We decided to stay put and everything worked out fine.
- from Atwater, OH United States on 2022-06-25
Hi Joan! Thanks for understanding that things happen and letting us work through it! :) We appreciate it! See you next year!
"Two week stay"
Services from rental manager

Cleanliness

Location

Property condition

we spent 2 weeks at Herbies Hideaway. This house has pluses and minuses. It needs a bit of TLC. Living room furniture is very dated and not at all comfortable. Would not have minded except we had several bad weather days and had to spend in doors. Kitchen is lovely, so are bedrooms and baths. Very nice screened in porch, but the furniture needs replaced with something that can be easily cleaned. It was fabric that has been exposed to the weather a lot and was wet most of the time we were there, also had pollen on everything (expected with time of year) but not able to be cleaned off. It is not clear where the dock is for this property. Cable is very basic maybe 10 channels. it may have other access, but there was nothing stating what to expect to get. Wifi worked very well. Probably would not rent again due to the condition of the living room.

-

Carol M.

from Apollo, PA United States on 2022-05-23

Hi Carol! Thanks for staying with us! I will pass this along to the homeowners. We hope to have you back again!
"Very nice but...."
Services from rental manager
Cleanliness
Location
Property condition
Rental was very nice but there is room for improvements. Living room and screen porch furniture should be replaced. It is basically unusable being very uncomfortable has an odor and really needs a good cleaning. The view of Assateague is barely visible from the second floor deck. The upstairs air conditioning was not working upon arrival. Big kudos to the rental agency and maintenance for fixing it quickly on a weekend.
- from Grantville, PA United States on 2021-10-09
"Bevies hideaway did not disappoint "
Services from rental manager

Cleanliness

Location

Property condition

Beautiful views, great location, nice house, lots of room for very comfortable beds plenty of bathrooms. The living room furniture and the upper deck chairs could use a little updating but overall we had a great time and I would definitely recommend this house

-

Lisa P.

from Springfield , Va United States on 2021-07-26
"May 2018 Stay"
Experience Rating

Property Rating

Value Rating

While this wasn't our selected place, we saw more ponies from the house than last year. Generally the house was good, but a few comfortable chairs would be nice. Window shades or at least curtains that fit would be a nice, inexpensive touch. We love the island and the people, it is so much different than the Jersey shore.

-

Lisa Clifford

from Cape May Court House on 2019-06-11
Leave a Review
[2]
Bedroom 1
1 King
Sleeper Sofa in the Living Room.
Bedroom 2
1 Queen
Sleeper Sofa in the Living Room.
Bedroom 3
1 Bunk Bed
Sleeper Sofa in the Living Room.
Suitability
Children Welcome
Pets Considered
Pets Not Allowed
Smoking Not Allowed
Accessibility Ask
Free Parking
Ceiling fans
Decked area
Central heating
Wheelchair accessible
Air Conditioning
Hot Water
Entertainment
Television
Satellite or Cable
Laptop Friendly
DVD player
Kitchen and Dining
Kitchen
Dining Area
Refrigerator
Coffee Maker
Microwave
Dishwasher
Dishes Utensils
Spices
Stove
Toaster
Oven
Fridge -
Freezer
Cooking Basics
Blender
Attractions
Autumn Foliage
Bay
Museums
Water Parks
South Ridge
Water Access
Gas Grill
Screened Porch
Internet
No Pets
Internet
No Smoking
Screened Porch
Grill
Water Access
3464 Ridge Road
Chincoteague Island,
VA,
23336
"dirty....... buggy"
We booked this house because of its handicap ramp and large family kitchen. Its not the house that we were disappointed in but the cleanliness. There were spider webs in the living room, spiders all over the porch, bugs lots of them in the windowsills, dirty dishes and silverware, food left in the oven. Ants were all over the kitchen and would crawl up your leg at the table. The rugs were dirty, stuff was smeared on the hallway walls, there was a hole in the wall, carpet stains..........it was very disappointing and upsetting.
-Jo D on 08/01/2016
"Dirty"
Had bugs, left food in oven, had ants bad on kitchen top. House was very dirty. Had to clean it before unpacking are things. Would not get any one to come out and spray for the bugs. Could have had the tress cut down so you could see the water. Need to have more trash cans for out side. House keeping people need to be replaced. Sofa was not comfortble. Will not come back. Tore two pairs of pants nail not in wall good
Manager Response:
Thank you for your review. Guest satisfaction is our top priority, so we are very sorry to hear of the less-than-satisfactory conditions you found. Our rental homes are cleaned and inspected prior to our guests, so this is troubling to hear since this never would have passed inspection. We encourage our guests to report any issues, if any, so they can be addressed asap. We'd love the opportunity to speak with you further about your stay; please give us a call at 800-668-7836.
-samJ7951EL on 07/25/2016
"Mike R was dead on with his review"
I thought the house was a good size but it could use a DEEP cleaning and some updated furniture and more TV's. The deck was unusable and dirty and the house probably was sealed shut and not rented since summer time. The decks could use to be power washed. I am a clean person and I did wash everything down before using it. I had to self clean the over on day because I baked in it and someone had spilled some foul smelling fish from the previous time and it stank. The price for winter rental was decent but I would feel ripped off if I paid the summer rental prices. Overall it was a good stay but because I made it more homey and cleaned it. The washed needs to be cleaned, its smells like mold because its a front loader and door needs to be kept open when not in use. Same with dishwasher. The decks were filthy. The view is nice.
-Kiki F on 01/04/2016
"Large house and room to relax. Dirty and uncomfortable furniture."
There are some things to love about this rental. First, it is spacious and relatively updated. However, there are plenty of issues at the detail level that we didn't find acceptable. We are clean people at home and expect a rental to be equally as clean. Most of the pictures online are outdated, however, I will provide photos.Keep in mind that this unit would rent for about $4000 per month and I always use a "monthly" rate to determine if a rental is indeed to that level of quality. I do understand that vacation rentals demand more than traditional rentals, but I think it is good to keep a perspective. Things we found that could be improved:1. The living room furniture is old and worn out. The sleeper sofa is meant for sleeping and not sitting, which makes it very uncomfortable to sit in and enjoy tv or reading. The futon mattress is completely flat - sitting on the floor is just as comfortable.2. The rental company does not consider the porches living space (my assumption), so that space never gets clean. We would not sit on the porch chairs/furniture and I did not go on vacation to clean other people's homes. 3. The area rugs are disgusting and all they need are routine washing.4. The carpets need cleaned.5. The bagless vacuum spews so much dust in the air that it virtually unusable.6. The wash machine is very small. You can wash about 10 pieces of clothing at a time.7. I would not use the whirlpool tub if the rent was free.8. The place needs a good cleaning which means moving furniture once a year to vac and mop.9. I had to fix most of the curtains upon arrival. They are hung with spring rods and many were pulled down allowing people to see in at night. Kitchen window curtain doesn't even cover the entire window - there is a 6" gap on either side that the curtain doesn't cover.10. The house has a million dollar view to Assateague, but it's completely overgrown.I post these comments to help other who are looking for clean rentals and to help drive change with these rental properties. Our first rental was full of mold and absolutely disgusting. The rental company moved us to this house, which was moderately better (the company did provide good customer service). My opinion is that if you want to collect big rent, you need to care for the home - I'm not an animal and I won't live like one on vacation.On a positive note, Chincoteague and Assateague are awesome and you can't beat for a terrific family vacation destination.
-Mike R on 09/27/2015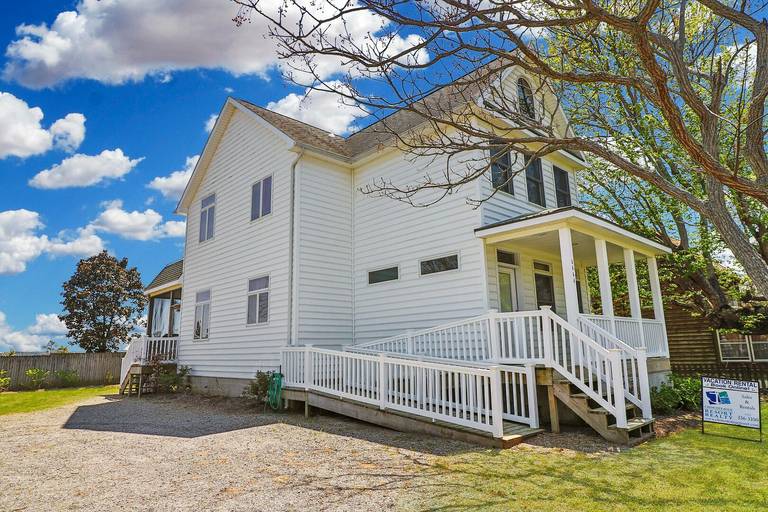 [4]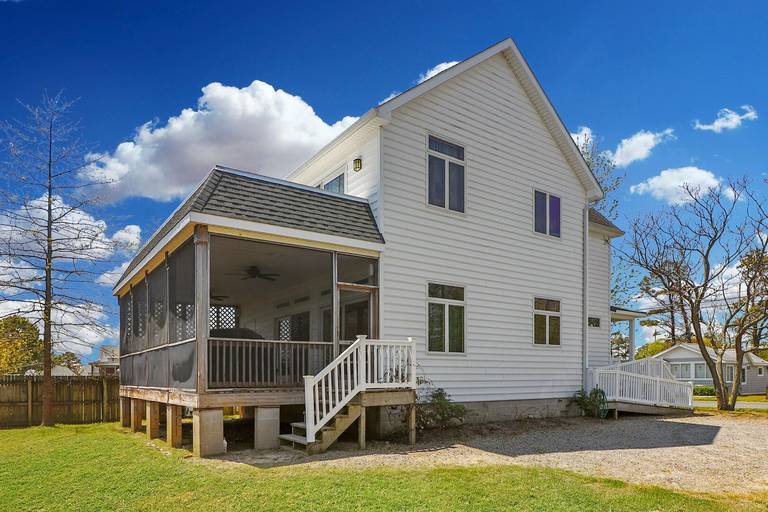 [5]
[6]
[7]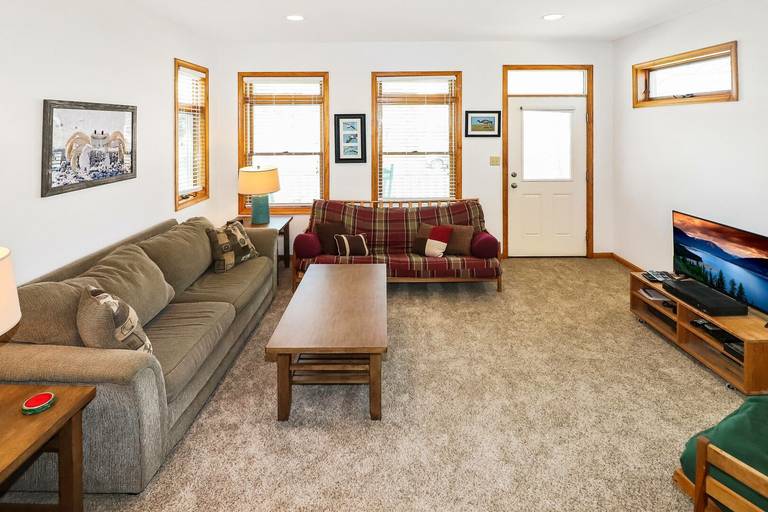 [8]
[9]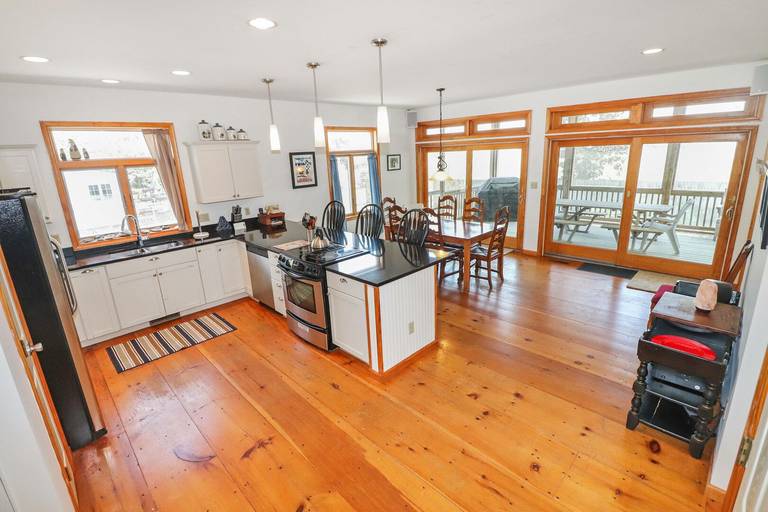 [10]
[11]
[12]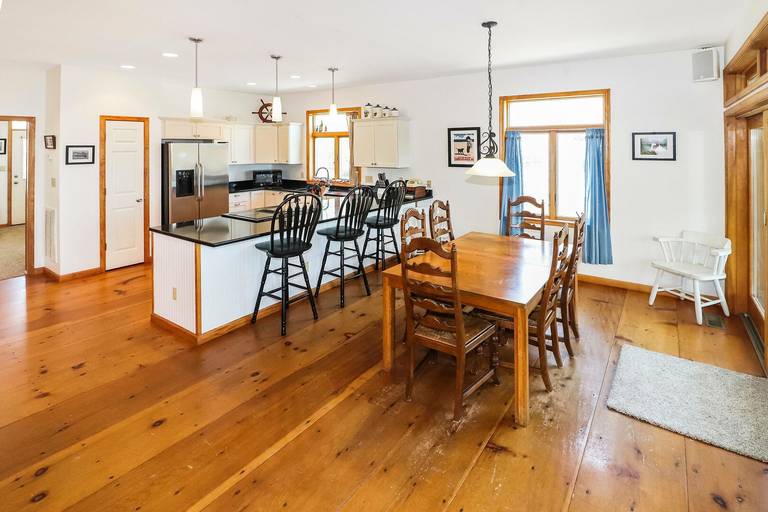 [13]
[14]
[15]
[16]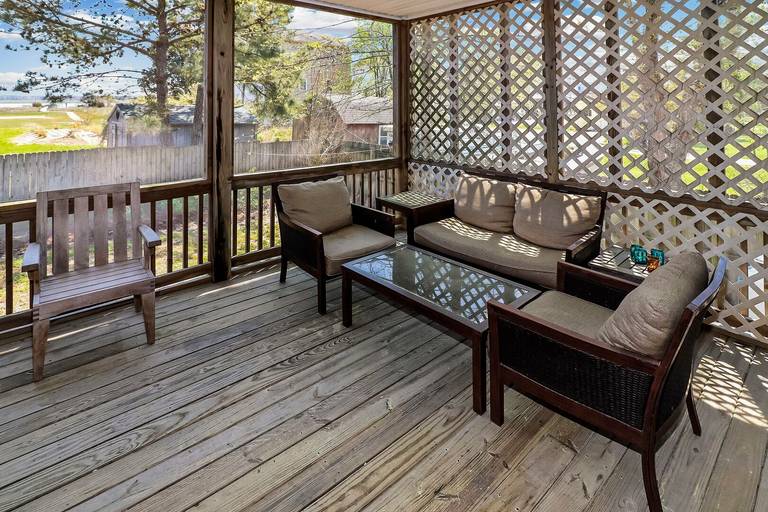 [17]
[18]
[19]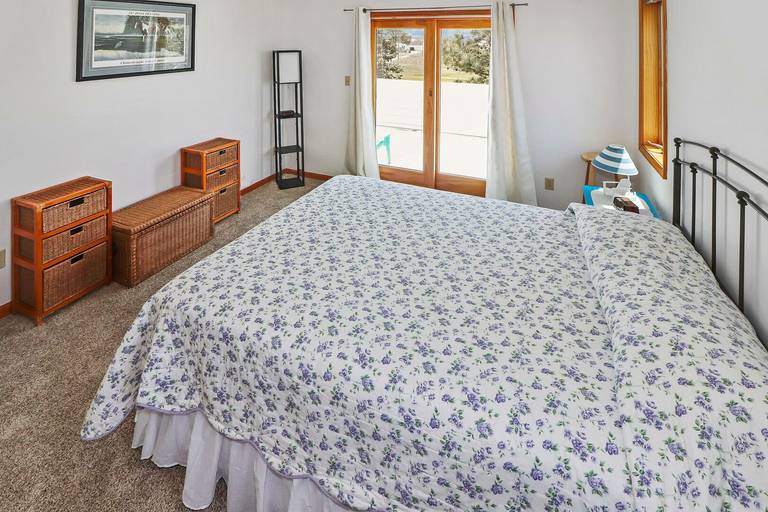 [20]
[21]
[22]
[23]
[24]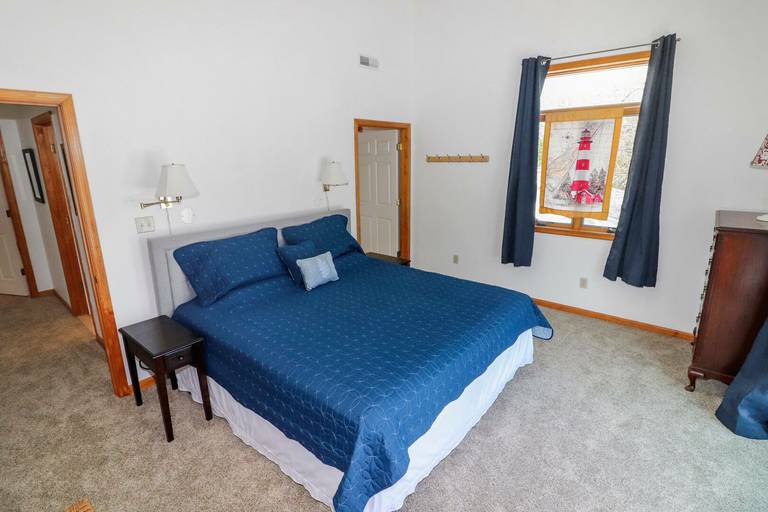 [25]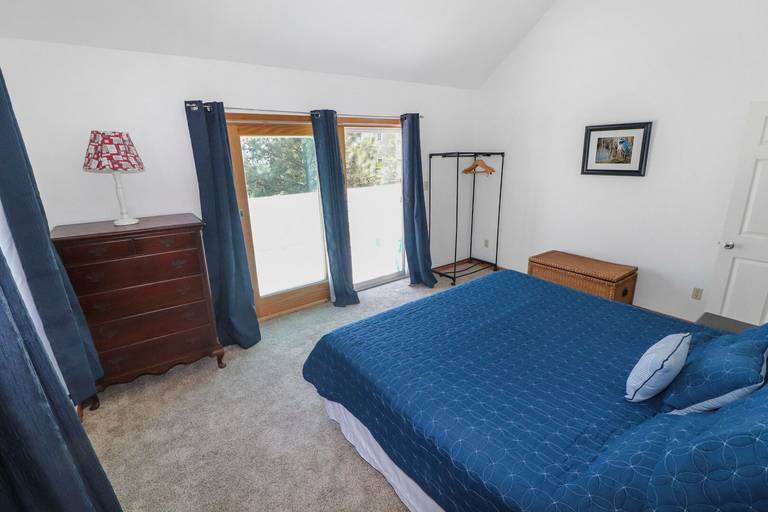 [26]
[27]
[28]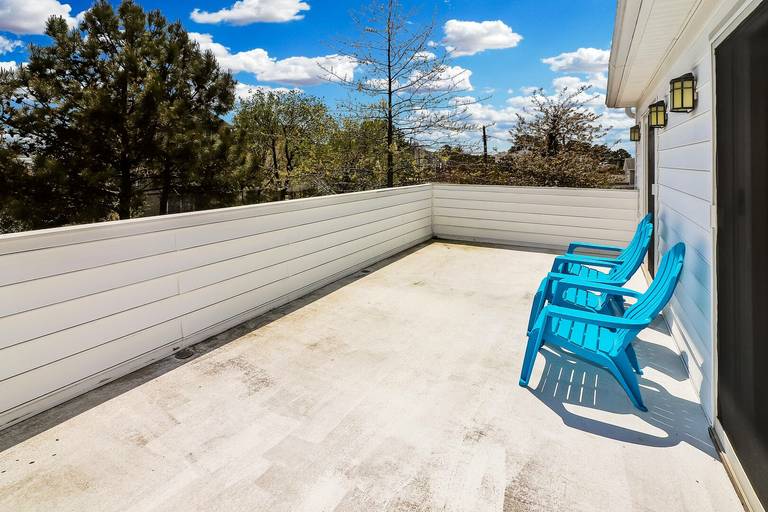 [29]
[30]
[31]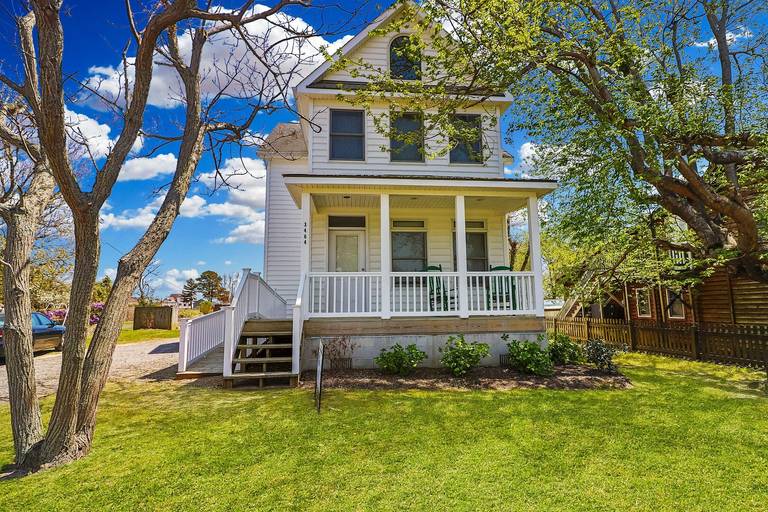 [32]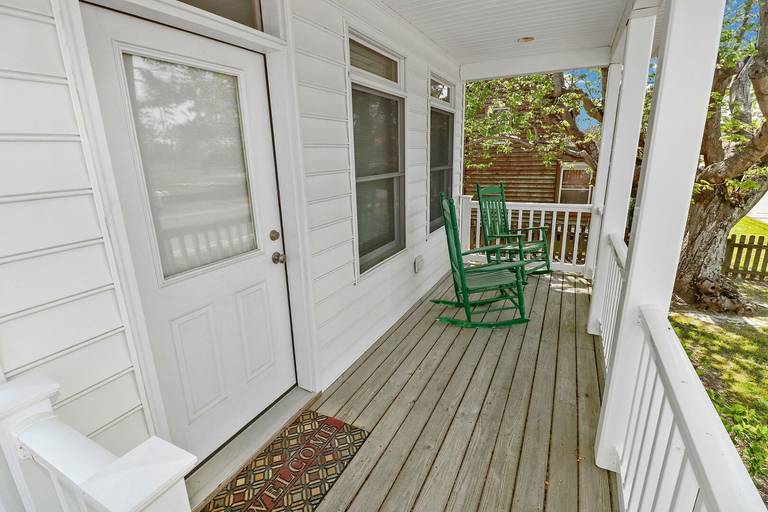 [33]
3 Bedrooms
3 Baths
Air Conditioning
Air Conditioning
Cable/satellite TV
children welcome
Chincoteague Island
Coffee Maker
Luxury water view vacation rental home with dock access. This home boasts a full ensemble of amenities and the most beautiful views of Assateague Island. The oversized chef's kitchen offers ample room for family gatherings and preparing meals, and it compliments the spacious dining area that opens up to the large screened porch. Beautiful custom windows and large sliding doors complete the open and airy floor plan. The geothermal heating/ac system lends to your ultimate vacationing comfort! Close to Memorial Park (playground, basketball, tennis, trails, water access) and directly across the street from a family restaurant! For larger groups or family reunions, check out nearby Moon Rising or Wildflower! | | Please Note: Linens and/or towels are optional and can be provided upon your arrival - please inquire about our linen packages. This property is NO SMOKING & NO PETS.
Amenities
Internet
Fireplace
Air Conditioning
Heating
Washer
Dryer
Parking
Hangers
Essentials
Internet Access
Cable/satellite TV
TV
Self Check-In
Extra Pillows And Blankets
Location:
23336
Chincoteague Island
,
VA
United States
37° 55' 1.4556" N, 75° 23' 4.6932" W
Virginia US