Amenities
outdoor shower
Cable TV
DVD Player
Air Conditioning
Clothes Dryer
Fireplace
Internet
Washing Machine
Coffee Maker
Cookware
Full Kitchen
Microwave
Refrigerator
Toaster
Waterfront
Deck / Patio
Outdoor Grill
basketball court
fishing
surfing
swimming
tennis
children welcome
pets not allowed
SafeHome (VRMA & VRHP)
Unit Code: PARADVW
"Never again"
Services from rental manager
Cleanliness
Location
Property condition
2 broken game tables, queen mattress extremely uncomfortable, inadequate number of bath mats, no shower curtains just liners that were too short, one sink in queen bath stopped up during 3 night stay, rugs slid when walking creating danger, one rug permanently curled on edge at a door entrance creating tripping hazard, no TV in queen bedroom, and more. Nothing warm and fuzzy about this house.,
- from Newark, DE United States on 2021-12-29
"weekend away with friends"
Services from rental manager

Cleanliness

Location

Property condition

The views are beautiful the porches are very enjoyable. The inside house needs some attention bathroom window shade was missing queen bed noisy with every move. Lights in ceiling fans need attention

-

Christine D.

from North Wales, PA US on 2021-10-21

Hi Christine! I will pass along your suggestions. Thank you for staying with us! We hope to have you again! :)
"Not paradise"
Services from rental manager

Cleanliness

Location

Property condition

House was in somewhat disrepair.

-

Thomas B.

from Malvern, PA United States on 2021-09-13
"So Much Potential- Aug 2021 "
Services from rental manager

Cleanliness

Location

Property condition

This property has so much potential to be the perfect vacation home. The house is nice and big, perfect for a multi-family vacation and the location doesn't get much better. However, we were pretty disappointed in the cleanliness and the quality. We were assured that the house would be cleaned before we got there, but it was obviously only a surface cleaning. The house is in desperate need of a DEEP clean. The grill needs to be replaced, a dishwasher needs to be properly mounted/secured, the outdoor table is about to collapse and one of the chair legs is rusted out, there isn't much for outdoor furniture considering all the decking, there is a roof leak in the covered part of the deck, ALL of the beds are uncomfortable, the fireplace didn't seem to work, the upstairs doors to the deck don't lock and blew open in the storms, the entire outside of the house could use an annual power washing and the quality of the kitchen utensils and cookware were very poor. I would go back to this house if they did some upgrades/repairs but until then, I'd rather find a nicer house to rent next year. I'm disappointed with the rental company for many reasons and I'm curious if the owner even knows about the bad reviews of the house.

-

Catherine C.

from Fredericksburg, VA United States on 2021-08-30
"Aug 2021"
Services from rental manager

Cleanliness

Location

Property condition

Great house for multiple families with children.

-

Dan K.

from Fairfield, CT United States on 2021-08-24
"Dirty, broken, yet somehow nice.."
Services from rental manager
Cleanliness
Location
Property condition
Sent a list of broken items to the staff- lamps, fan lights, futon, game table, grill (was also probably never cleaned in years) railing to deck loose, nails sticking up on deck.. the list went on.. No one ever came to repair. So we purchased a hammer to fix the deck for safety, repaired the one lamp thanks to handyman uncle with us, soaked the grill grates for hrs to get them clean, had to purchase a grill lighter since the grill light didn't work, and just was unable to use the rest. The house was also dirty- but the staff addressed by refunding our cleaning fee. It's a shame all this happened as the house was on a beautiful lot and had plenty of space for our larger family to come together but also have separate space to relax. If these issues were addressed properly or of course even better - never happened- we would have given the home a 4.5 compared to other homes we have stayed.
- from Washington, NJ United States on 2021-08-09
"Paradise View"
Services from rental manager
Cleanliness
Location
Property condition
The house was a very good fit with our family's needs. The location was good for getting to the beach, and other areas. We enjoyed being on the canal--good for crabbing and fishing. We thank you very much for this opportunity.
- from Scottdale, PA United States on 2021-06-15
"Beautiful!!!"
Services from rental manager

Cleanliness

Location

Property condition

We had a girls weekend and we LOVED the porch, we spent the whole weekend on the decks. The view was unbelievable! The beds were comfy and it was perfect for us!

-

Brittany B.

from Frederick, MD United States on 2021-05-18
"Great views, very spacious"
Services from rental manager
Cleanliness
Location
Property condition
There's a lot of space in this expansive home, with very large bedrooms and several living areas. The king bedrooms in particular have lots of space, large walk-in closets, and big bathrooms. You can bring a big family in here without feeling like you're living on top of each other. It's very peaceful, with a broad horizon to see sunrises, sunsets, and water birds.We had a few maintenance needs when we first arrived, and several items that were completely unusable. The queen bed mattress was truly awful and in need of replacement. The shades in the office were on a pull chord system that was broken, rendering them useless. And the foosball table was missing key structural screws and unusable. The management company responded very timely to all our concerns but informed us these were items the owner would have to replace, and no further effort was made during our stay. The kitchen was also equipped with well-used basics only, so be sure to bring any items you may need from home other than pots, pans and cutting boards.
- from Wayne, PA United States on 2021-01-26
"June 2017 Stay"
Experience Rating

Property Rating

Value Rating

We loved our stay at Paradise View! The location right off the water was perfect for crabbing, and we caught enough for several meals. The house was very spacious. We were able to accommodate our group very comfortably. The two dishwashers made meal cleanup very easy, and having six bathrooms was great. The air conditioner downstairs wasn't working properly when we got there, so we called in a work order, and it was fixed that morning. I'm giving it four stars because the king bed downstairs was quite firm, although the other beds were better. Also, there are a lot of stairs, so older guests need to be aware of that. My grandfather did fine on them, but once he got up to the top floor, he was happy to stay there. We are looking forward to coming back to this property soon.

-

Kelly Bluman

from West Point on 2019-06-11
"August 2018 Stay"
Experience Rating

Property Rating

Value Rating

We loved our stay at Paradise View!There was great space for our two families to stay and have plenty of room.The only thing we would request is to add more guests to stay as there are a couple more rooms to put beds in.Other than that it was a nice location and the views off the decks were beautiful!

-

Lee Watts

from Lafayette, NJ on 2019-06-11
Leave a Review
[2]
Business
Nearby ATM
Nearby Post Office
Nearby Internet Cafe
Nearby FedEx
Nearby Bank
Convenience
Area FitnessCenter
Nearby Medical Services
Nearby Grocery
Movie Theatres
DisplayRate
Enter Dates to Get a Rate
Beds
King 2
Queen 1
Twin 2
Other 1
ATTRACTIONS
churches
festivals
library
playground
restaurants
water parks
GENERAL
Air Conditioning
Clothes Dryer
Fireplace
Internet
Washing Machine
KITCHEN
Coffee Maker
Dishes & Utensils
Dishwasher
Microwave
Oven
Refrigerator
Stove
Toaster
LEISURE_ACTIVITIES
beachcombing
bird watching
photography
scenic drives
LOCAL_SERVICES_AND_BUSINESSES
ATM/bank
fitness center
groceries
medical services
OUTSIDE
Deck / Patio
Outdoor Grill
SPORTS_AND_ADVENTURE_ACTIVITIES
basketball court
fishing
surfing
swimming
tennis
SUITABILITY
children welcome
pets not allowed
Health and Safety
Enhanced cleaning practices
Clean with disinfectant
No-contact check-in and check-out
SafeHome (VRMA & VRHP)
North Main
Waterfront
Boat Dock
Gas Grill
Internet
Fireplace
Outdoor Shower
Boat Dock
Gas Grill
Internet
Fireplace
Outdoor Shower
Waterfront
5118 Richardson Street
Chincoteague Island,
VA,
23336
"Beautiful location"
Absolutely loved paradise view from Chincoteague Resort Vacations. The scheduling was a breeze and everything was from scheduling to rental agreements to check in were a breeze. They have a super useful app that allows you to access information regarding your stay, points of interest in the area and important phone numbers should you need to contact them. Any issues or questions that I had were resolved by Susie, who was super friendly and helpful throughout our stay!The home itself is situated right on the bay front with plenty of views for both sunset and sunrise. This was a perfect getaway for my family and a beautiful location to do it at. I highly recommend this home to anyone looking in the area for a rental home for a large family!
-Maria A on 09/13/2016
Waterfront, Sleeps 10, Great Outdoor Space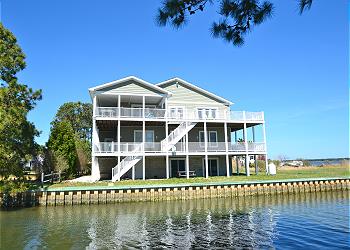 [4]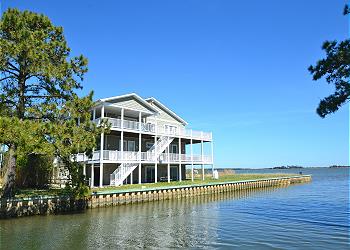 [5]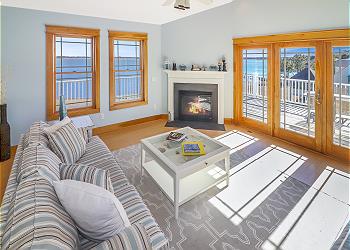 [6]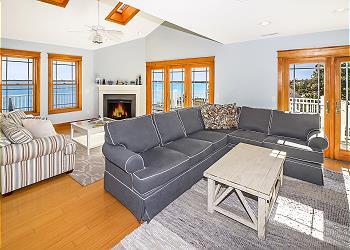 [7]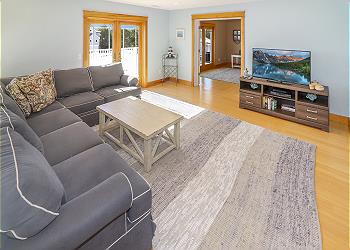 [8]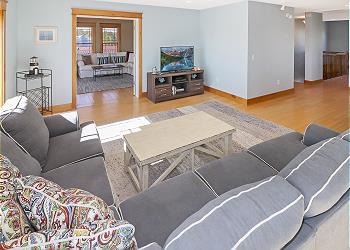 [9]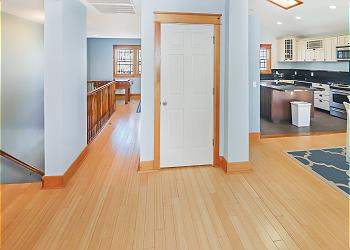 [10]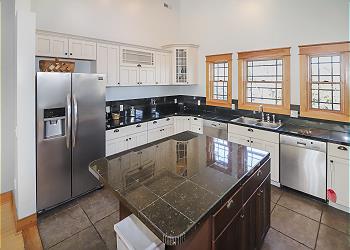 [11]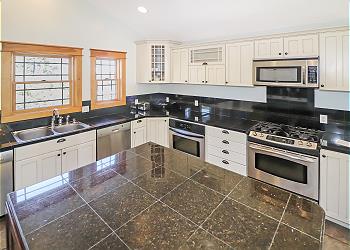 [12]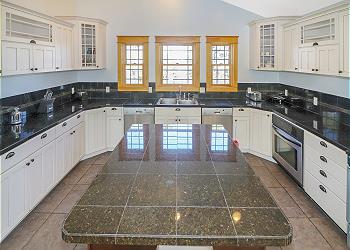 [13]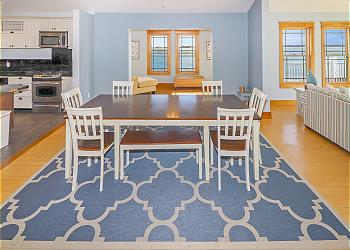 [14]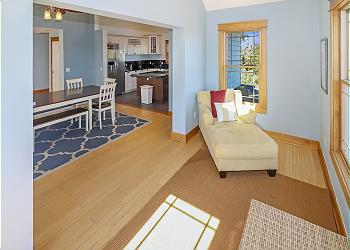 [15]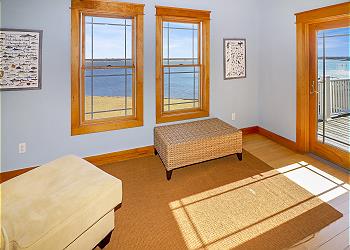 [16]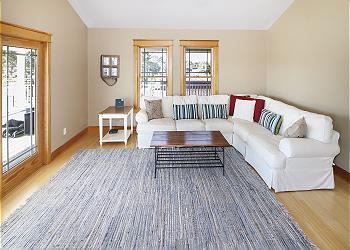 [17]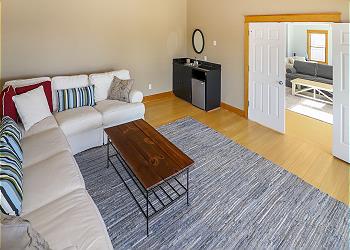 [18]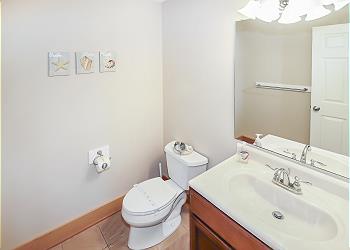 [19]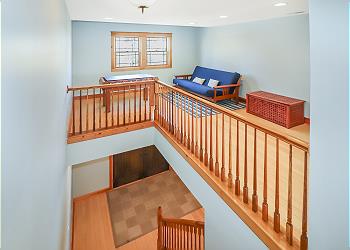 [20]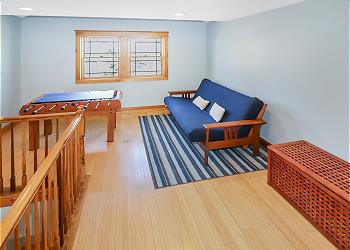 [21]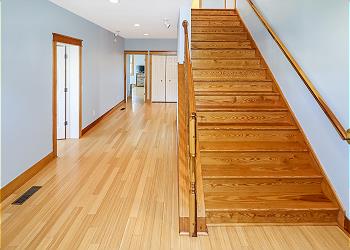 [22]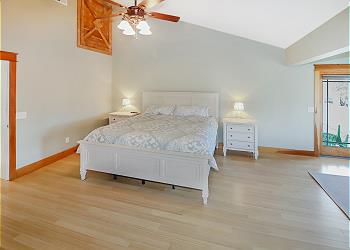 [23]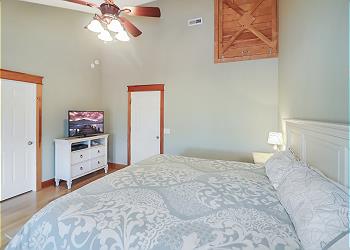 [24]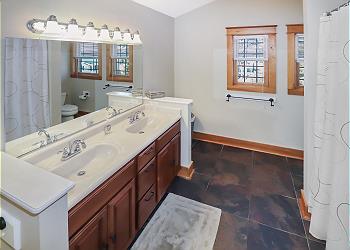 [25]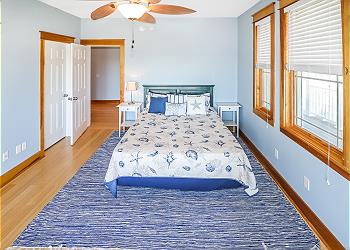 [26]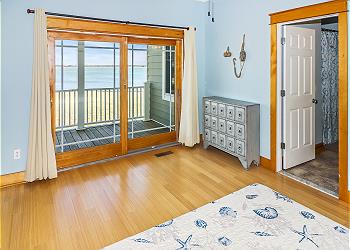 [27]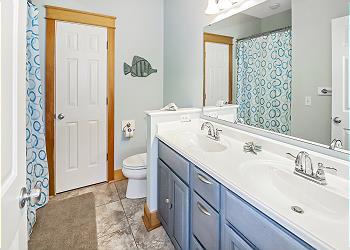 [28]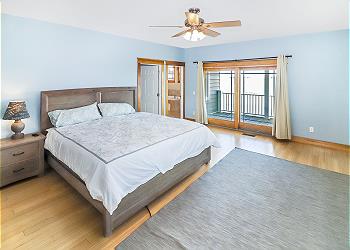 [29]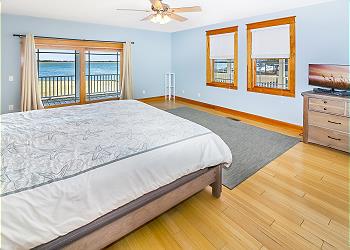 [30]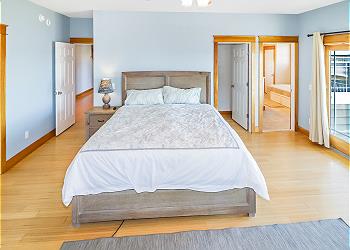 [31]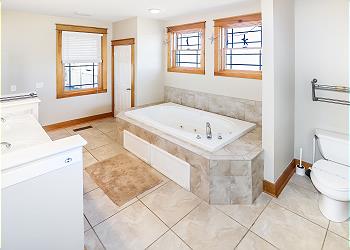 [32]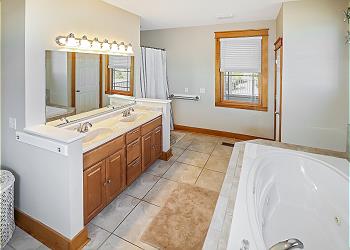 [33]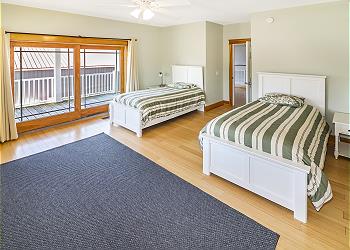 [34]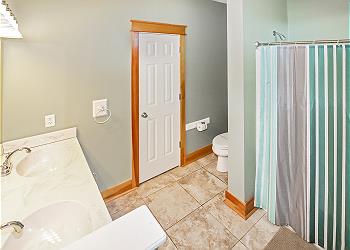 [35]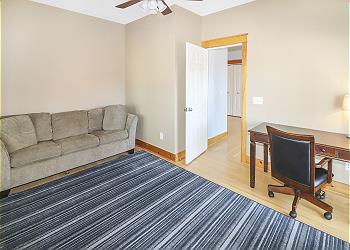 [36]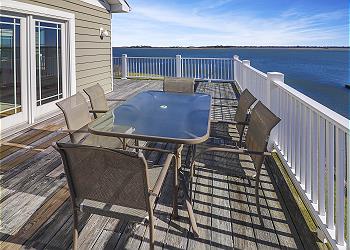 [37]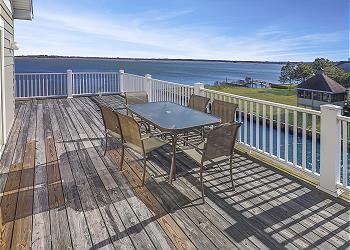 [38]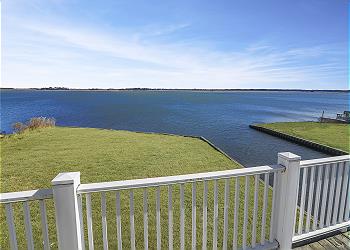 [39]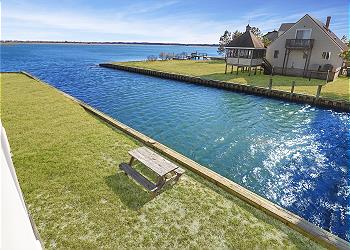 [40]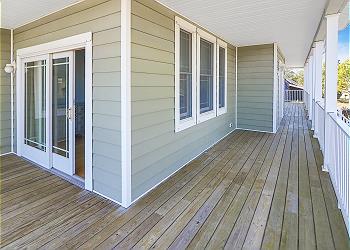 [41]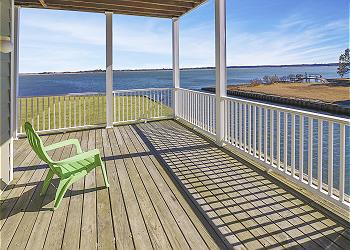 [42]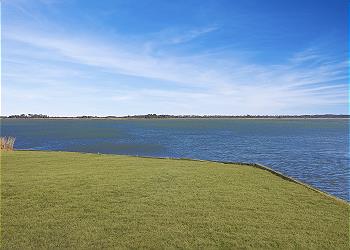 [43]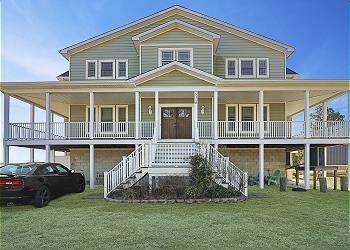 [44]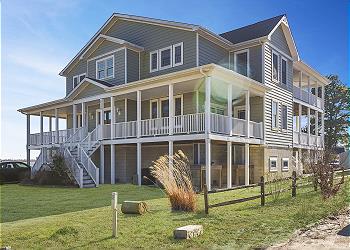 [45]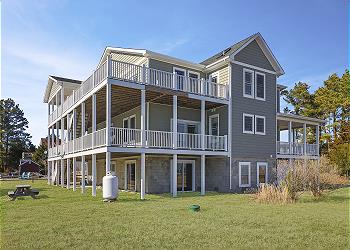 [46]
4 Bedrooms
4 Baths
Air Conditioning
basketball court
beachcombing
bird watching
Boat Dock
Cable TV
Truly a masterpiece, this luxury vacation rental home offers only the finest amenities. Each bedroom is a separate suite with private bath. The master bedroom suite (K) features two a spa bath with jetted tub, a private waterside deck area and beautiful water views. To capture the best views, you'll find 3 bedrooms (K,Q,2T) and a private reading room with writing desk on the first floor. The second floor features a spacious and lovely great room with water views in all directions. To aptly describe it, there's room for everyone. There's a chef's kitchen with center island, a large dining area, a large living room area with multiple sofas, tv, fireplace and deck access. There's a game area with Foosball table and a small waterside sun room area off the dining room. There's a wonderful separate lounging room, complete with wet bar, that creates a luxurious space for private affairs. In addition, there is a master bedroom suite on the second level with tv and private bath (with shower). The home is situated on a waterfront lot overlooking Oyster Bay. You'll enjoy breathtaking sunrises/moonrises. You can dip your fishing pole in the water or throw the crab trap over and catch your dinner. Paradise View is a beautiful home and you'll enjoy making vacation memories here. It's a place you'll want to return to time and time again. | | Please Note: Linens and/or towels are optional and can be provided upon your arrival - please inquire about our linen packages. This property is NO SMOKING & NO PETS.
Location:
23336
Chincoteague Island
,
VA
United States
37° 57' 4.7916" N, 75° 20' 36.7584" W
Virginia US